ENTER YOUR MESSAGE IN THE  BOX. YOU MUST INCLUDE YOUR EMAIL ADDRESS  FOR A REPLY.

Past Aboveground Theater Performances, see Archive screen.

CABARET VÉRITÉ  III:

OUR FAMILY MEETING

SATURDAY, SEPTEMBER 26, 2015, 8 pm at WILLIE WAY CABARET

Supernova singers/cabaret artists Andrew Crowley, Messapotamia Lafae, Jaye Sanders, Ibrahim Vicks and Tom Wilson Weinberg

hereby convene Cabaret Vérité III: OUR FAMILY MEETING.

The evening before Mass on the Parkway, you, your family and Pope Francis are invited to join us for mirth and music celebrating families united in joy, commitment, feuds, drama and endless love.

The quintet will sing, dance and preach to the choir about the

many kinds of families we know and love. If you're married or if you're un, bring your daughter and bring your son. Bring your dear one and bring your queer one, your macho mother, sissy brother,

lassie, laddie and sugar daddy.

OUR FAMILY MEETING BENEFITS WILLIAM WAY LGBT CENTER

        Jaye

  Sanders

Messapotamia

     Lafae

Tom Wilson

    Weinberg

     Ibrahim

  Vicks

      Andrew Crowley

William Way Center Ballroom

1315 Spruce St., Philadelphia

Sat, Sept 26, 8:00 pm (ending 9:30)

for more info: cabaretverite@gmail.com

Everyone's welcome at

OUR FAMILY MEETING.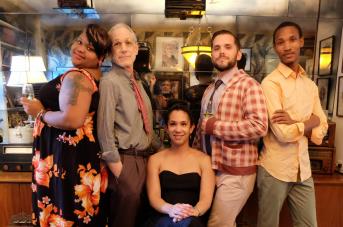 l to r: Jaye Sanders, Tom Wilson Weinberg, Messapotamia Lefae, Andrew Crowley, Ibrahim Vicks